Transforming men and masculinity
TUISHI AMANI: Celebrating the transformation of masculinity
164 couples took part in the closing ceremony of the 15-week therapy groups held by HEAL Africa as part of the implementation of the project "Involvement of men in the maintenance of security and stability in the Eastern part of the Democratic Republic of Congo". With support of the Embassy of the Netherlands through Living Peace Institute, these groups have been operational in the territories of Masisi, Nyiragongo and rural Goma bringing the number of couples ambassadors of peace to 1563 since the beginning of the project in 2015, and 60,000 people sensitized on peaceful cohabitation.
The community celebration was attended by local leaders for whom, as said Mwami BULENDA BITSIBU Primo, customary chief of KAMURONZA district, "the intervention of HEAL Africa and its partners is the support we have always needed. Since therapy groups were established in our communities, we are receiving fewer and fewer complaints regarding domestic violence."
In Shasha and Bweremana villages, Masisi territory, at Buhimba/Lac Vert district of Goma town, and in Kiziba village, Nyiragongo territory, sites where the therapy groups were operational, the community celebration was punctuated by moments of global joy, role-playing games illustrating the change made and, to the highest degree, sharing testimonies of couples now transformed.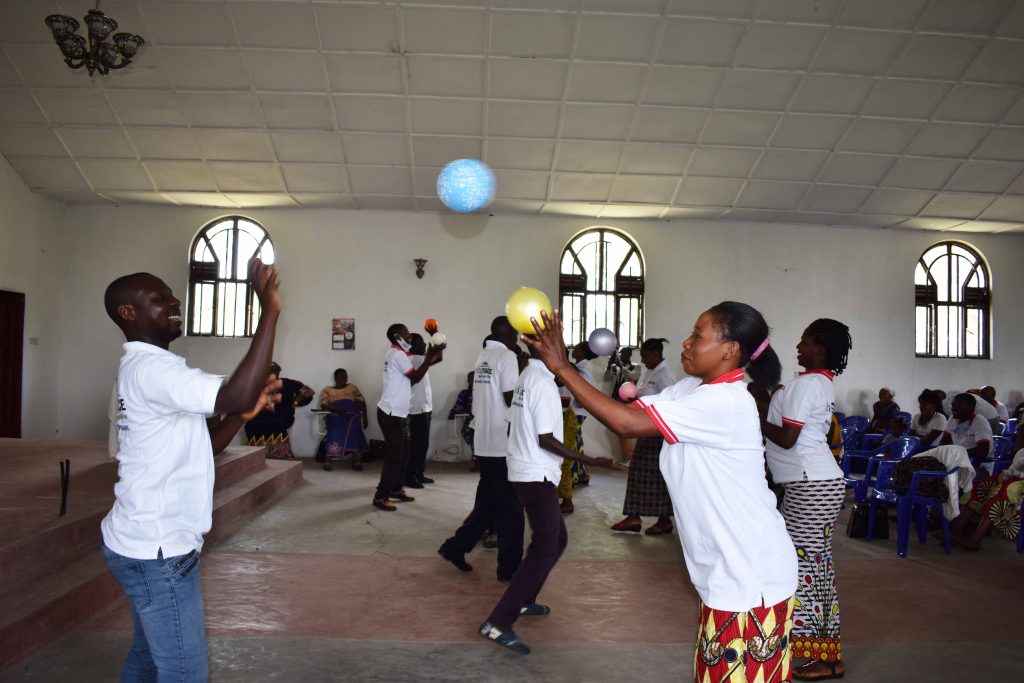 Psychological support for men in the context of conflict
In North-Kivu and South-Kivu provinces, studies have shown that many men are traumatized and experience the impression of proven helplessness in the face of the socio-economic fallout of repeated wars that have characterized the eastern part of DR Congo for more than three decades. Faced to the loss and pain that mark their daily lives, these men develop negative behaviors such as heavy drinking, fighting and various forms of violence against women.
Made vulnerable in a cultural context that generally encourages them to be strong and dominant, these men become unable to meet the expectations of their culture. Their man capacities and social roles shaken by these various traumatic experiences, they end up in an indefinable cycle of violence at home and in the community.
Many men find it difficult to ask for help to solve their problems because it is not easy for them to display their vulnerability. They prefer, therefore, to brandish their strength and power while masking their suffering. Psychological support for these men is needed to help them cope with the trauma of violence and avoid risky behaviors.
Launched on July 18, 2021, this second phase of the fifth year of existence of the TUISHI AMANI therapy groups – translate "LIVING PEACE", and whose closing was placed in the community celebration at the end of September 2021 embodies the response of HEAL Africa and its partners to this situation where masculinity has become a tool of gender-based violence.
Transforming masculinities
To teach men to solve their problems in a non-violent way, diverse themes focused on the transformation of masculinities were developed in their restricted therapy groups. For 14 weeks, 14 sessions brought together 15 participants in each of the groups established in the aforementioned sites, with the aim of raising the awareness of families and entire communities about the issue of gender-based violence, te support that men and their wives need to sustain the changes made and become ambassadors of peace.
"I had never imagined such happiness in my home. My husband who did not hesitate to raise his hand on our children and myself every time he came back home drunk has become the perfect male model for everyone around us," said Ms. OMBENI BALABA, wife to a participant in the Buhimba/Lac-Vert district, Goma town.
Just like Ms. OMBENI, many of these women have testified of the positive transformation that their husbands have experienced downstream of their participation in Living Peace therapy groups. Homes rebuilt, happiness regained, communities transformed, conflicts resolved, the approach of this project to make men the engine of maintaining security and stability in the eastern part of the Democratic Republic of Congo has not been in vain.