"Leave No One Behind: Let's Engage To End Obstetric Fistula"
Every year, the International Day to End Obstetric Fistula is celebrated worldwide on Wednesday, 23 May. Every year HEAL Africa participates, operating on a different theme, yet with the same determination: to bring aware awareness to a condition of the poor and to give hope to every woman who suffers from the condition. This year's theme was "Leave No One Behind: Let's Engage To End Obstetric Fistula". The lack of access to healthcare (affordability, proximity, a critical shortage of expertise) and limited education of antenatal and postnatal care, makes fistula very prevalent in impoverished countries.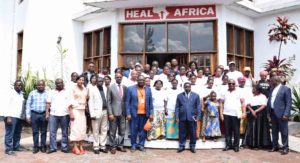 Some patients, staff, and speakers pose for a photo during the event.
The World Health Organization reports that 2,000,000 young women live with untreated fistula worldwide, and 50,000 to 100,000 new cases are registered every year. The 10-20,000 cases that are treated yearly still leaves a gap, approaching 80,000 women who still face fistula-related hardships, affecting individuals, their families, communities, regions, and the overall health of the nation. These numbers do not reflect the numbers who reside within inaccessible regions.
When the International Day to End Obstetric Fistula was launched in 2013, Ban Ki-Moon, the former General-Secretary of the UN, joined HEAL Africa for the event. Since then HEAL Africa has treated thousands of women suffering from the treatable condition. It is also the reason construction of a fistula wing at HEAL Africa, is underway. Thanks to the Fistula Foundation, we will be able to treat more women and provide the appropriate space for healing.
Statistics from The United Nations Population Fund show that approximately 1,225 cases are treated in D.R.C each year. Around 1/3 of these treatments are conducted by HEAL Africa practitioners in at HEAL Africa hospital in Goma or during outreach missions. Because of generous donors, treatment is free of charge. But reaching women with fistula is no easy feat. Through word of mouth, the radio and church/religious gather announcements, HEAL Africa gets the word out. But challenges don't end here. Many women suffering from fistula are unfamiliar with the conditions from which they suffer. Gender and cultural barriers also exist. Some women may show up to register but never really go through with the treatment—many are still skeptical of modern medicine.
HEAL Africa conducts fistula outreach in 9 provinces of D.R. Congo. Lack of infrastructure makes it difficult for the teams to reach rural areas for medical campaigns.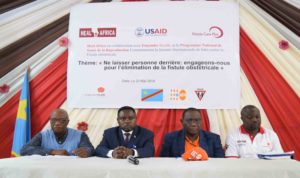 Dr. Jo Lusi, far left, brings awareness to the issue with other local leaders.
Fistula causes both physical and psychological trauma. Women lose their dignity through the "shameful" experience.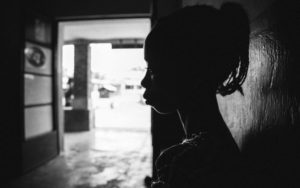 Living with fistula and prolapse had a "physical and economic" impact on 37-year-old Amba (pictured above, waiting for surgery). She had always been in good health until she started feeling pain and losing weight. She also worked alongside her husband in the field to feed the family and sell their surplus. But now her husband goes alone, so they can't produce as much as they were able to before.
HEAL Africa's approach to ending fistula is holistic. In addition to surgery, HEAL Africa conducts prevention of fistula through education (of both patients and their communities), provides therapy after the trauma, social and economic reinsertion, and scientific research. While HEAL Africa possesses the tools to treat women, the program relies heavily on external funding to provide treatment and transportation to and from their villages.
The cost of surgery to treat a woman is $450 and $100 for therapy and reinsertion.  Become a partner in the effort to provide physical and psychological treatment.