Training
We're more than a tertiary hospital.
HEAL Africa supports community-based health care by training health care professionals and participating in research focused on the needs of the region.
We also ensure that training is available for technicians to use and maintain a variety of instruments and machines that serve the hospital.
Verifiable statistics in DRC are difficult to obtain, however, it is reliably estimated that there is less than one physician for every 10,000 people and the ratio of surgeons is one for every 1 million people. The current medical and surgical workforce does not meet the health crisis in DRC. We address this problem by intentionally training health care professionals and conducting medical research.
HEAL Africa also goes to the rural health centers to train nurses, many of whom have received only basic first aid training. Training is often given in the rural areas to physicians who assist HEAL Africa physicians during outreach projects.
HEAL Africa places great focus on training physicians in Family Medicine. The training prepares candidates to face the demands of rural primary health care. The curriculum is rigorous. It features instruction and supervised rotations in the following areas: pediatrics, obstetrics/gynecology, general surgery, orthopedics, internal medicine, ophthalmology, dentistry, public health and management. Christian mentoring is an important component of the residency program. Each resident is taught to follow the example of Jesus Christ who treated all without regard to race, tribe, social status, religious affiliation, or gender. Residents are encouraged to provide healing that addresses the physical, emotional, social, and spiritual needs of the patient.
In 2016, HEAL Africa began training physicians in surgery through a partnership with COSECSA.
Current Areas OF Training
COSECSA (College of Surgeons of East, Central and South Africa)
Family Medicine
Orthopedic Officer School
Chaplaincy School
Specialization Program of Resident & Generalist Doctors
Neonatal Nurse Training
Scientific Research
Continuing Education (for medical, paramedical and administration)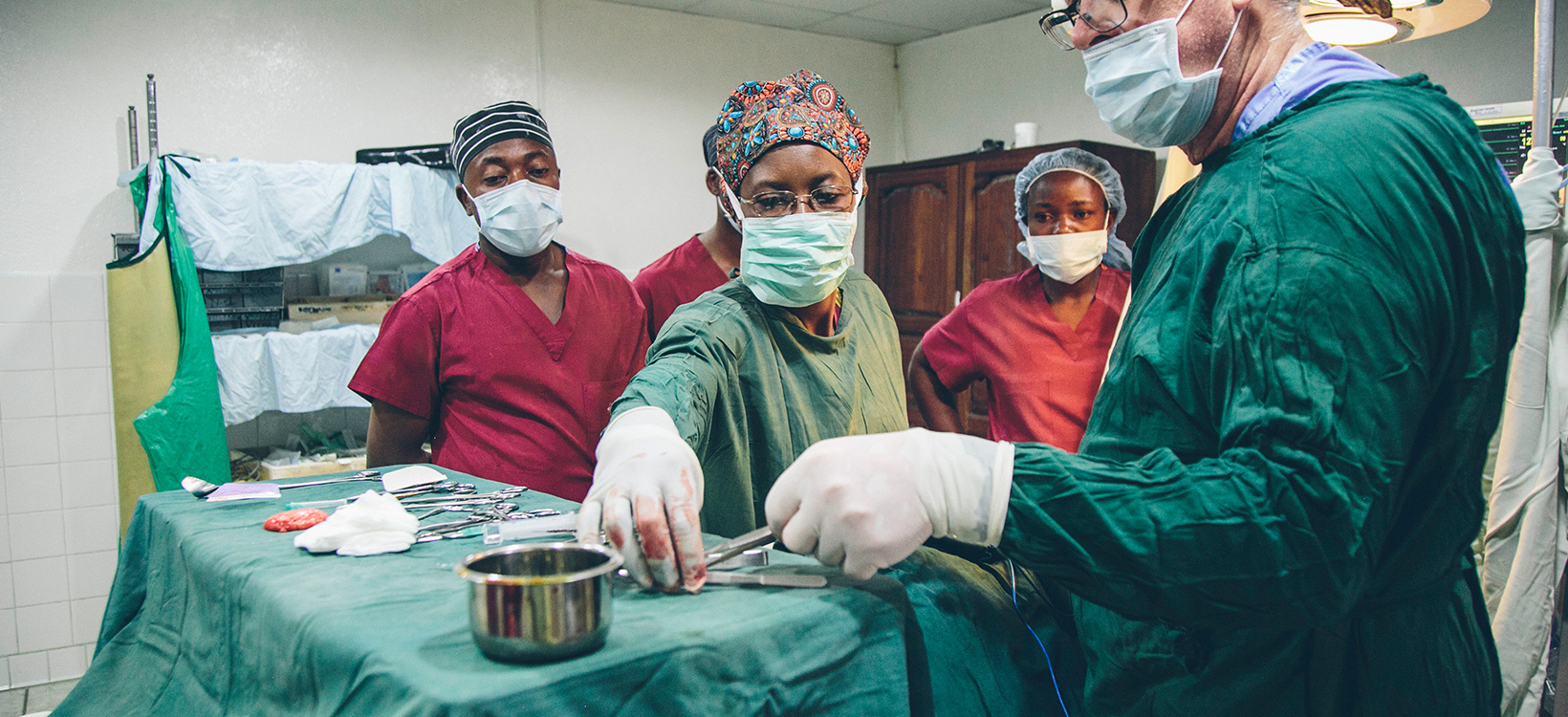 CONTINUING MEDICAL EDUCATION
HEAL Africa helps practicing physicians remain current with medical advances. New treatment and new regimens offer new options for patient treatment. HEAL Africa hosts lectures given by international visiting doctors for the medical community in Goma. Medical teams recruited individually, by churches or institutions from across North America, Europe, and Australia volunteer at HEAL Africa, teaching theory and practice in addition to working with Congolese doctors in the wards.
MEDICAL RESEARCH & STUDY
Research undergirds medical advancement in diagnosis and treatment. HEAL Africa adheres to the principle that all interventions should be closely monitored for their outcomes and effectiveness. In support of this, all residents complete several supervised research projects over the course of their training. Continuing Medical Education (CME) conferences hosted by the hospital feature segments of research germane to service in this region. And many of the organization's staff members also engage in research and publish while practicing their discipline.
HEAL Africa Training Team