14 Finish Clinical Pastoral Training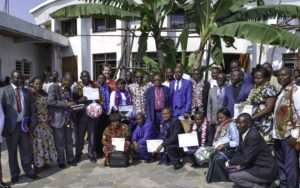 Today 7 men and 7 women fulfilled their Clinical Pastoral Training (CPT) at HEAL Africa. With the persistent and pervasive conflict in the eastern DRC, the need for therapy and counseling to address the trauma experienced by many of the region's population is critical. This is good news for many of the patients at who need more than physical healing.
Classes were held at Buhimba and practice was conducted around the city of Goma, including HEAL Africa Hospital and General Referral Hospital of Virunga, among others. In addition to techniques in counseling and therapy, the CPT curriculum encompasses Biblical hermeneutics and missiology, and intercultural concerns.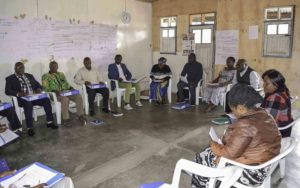 Conducted by Dr. David MUSIANDE KASALI, member of HEAL Africa board and Rector of UCBC (Université Chrétienne Bilingue du Congo –Christian Bilingual University of Congo), the graduation ceremony took place this morning at the HEAL Africa's tabernacle. UCBC's partnership to the HEAL Africa CPT Program provided a necessary component, awarding the necessary credential to CPT graduates. Just as Jesus washed the feet of his disciples, the graduates took part in a "washing of the hands" ceremony to symbolize servant-hood in their public call to be present to patients at their bedsides. In addition to certificates and Bibles, the CPT candidates were each handed a towel reinforce the meaning and remember their call to serve.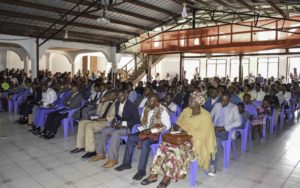 Pastor NJEKAUSEM DOUMI from Chad took part in the training. Being the first and only from his country to get this training, Pastor DOUMI recognized the need of his fellow Chadian pastors to be trained in the CPT approach. "I think this has opened a new opportunity for me, as it is my duty to try orienting chaplains from my country to apply better assistance to patients. For example, we should listen more to the patients we assist instead of giving them injunctions". His participation was at the recommendation of the Chadian Evangelical Churches.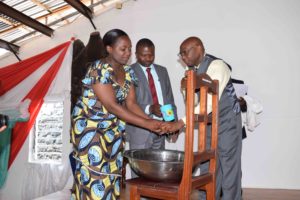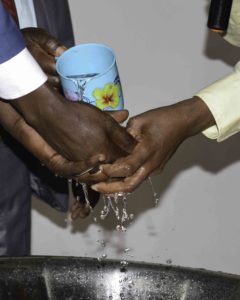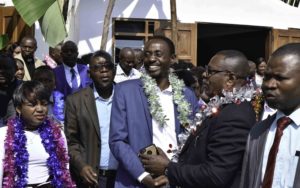 Sylvie Magali SIMBILIABO, who works at Beni's Bethesda Counseling Center, gained more confidence in the way she treats her patients. "I think my work will be enhanced by integrating all I have learned here. I have got important tips and strategies to help me overcome common obstacles I used to face in my daily work."
When asked how the program could be improved, none of the CPT graduates were opposed to spreading the program into other African countries.